on the 9th of august i had a dream that i was walking in a field, i remember the grass was very vividly green and in front of me appeared a very wide pumpkin  tree with small bright orange pumpkins hanging from branches.
I stopped walking to observe the tree and i remember thinking that pumpkins grew in patches, and i googled it when i woke up to find that actually there are pumpkin trees, i hadnt known this.
The leaves on this tree were as green as the grass and as i watched it one pumpkin fell off the tree and landed upright on the grass just in front of me.
when i woke up i thought about how strange this dream was and wondered what it meant.
on the 13th of august i got a call from my dad to say that my brother had died that night, now i think that that dream may have been like some sort of warning to say that a member of the family was going to die, i wish i had counted the pumpkins because there are 6 siblings on my dads side and 9 on his mums side.
I had already booked and paid for a holiday to brean on the 16th and as i couldnt get my money back i decided to still go.
the first two morningsi would wake up and open the curtains to our chalet and there would be 3 or 4 ducks and some seagulls just stood outside of my door looking in, they werent outside anyone elses door, one of these mornings i went to the shop and on the way back i could still see them sat outside of my door just looking in.
the first night of my holiday i couldnt sleep and so i asked my brother to send me a sign that he was ok, shortly after i went for a fag  in the early hours of the morning .
i had tidied up and swept before going to bed but on my way out of my bedroom door i saw a white feather on the floor, so i picked it up and kept it.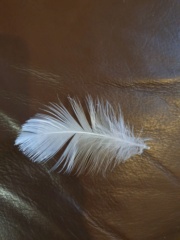 then outside whilst having my fag i  clearly seen T.T in the shape of clouds that quickly floated away, i dont know what this means but i feel it could have been some sort of sign.
that same night  i vaguely remember a dream of seeing the outline of a egyptian cat in the dark. I was a passenger in a car and of a bird that looked like a Phoenix flying through the sky. it wasnt on fire though just a dark shadow like figure. it was at night.
every now and again for the first week or two i kept feeling like somebody was stood near me watching me, i feel like it was him.
I have a pebble on my fireplace that has the words cornwall on it, a few times ive been home alone and found it turned over so that the words cornwall was on the bottom.
my light in my kitchen can be a little unstable so could be a coincedence but lately it only seems to flicker and buzz just before i am about to walk into the kitchen sometimes.
a week ago i went to visit my brother in the funeral directors

, on the way back , the first thing i noticed in the waiting room was this little white feather on the floor in my path. again i am going to keep it.
my dog poppy keeps lookin into the air and whining and wagging her tail like somebody is there, she never used to do this, mainly by the front door.
we buried my brother on the 20th september, rest in peace bro, i love you xxx